What is a Chatbot?
A chatbot is an artificial intelligence (AI) software that can simulate a conversation (or a chat) with a user in natural language through messaging applications, websites, mobile apps or through the telephone.
How Do They Work and Benefits of Chatbots?
One of the most interesting parts of the chatbot software space is the variety of ways you can build a chatbot. There are three types of chatbots most consumers see today:
Rules-Based Chatbots
AI Chatbots
Live Chat
Today's marketing & sales teams are under a lot of pressure to not only show results, but to constantly be improving the customer experience. This can be done with human beings up to a certain tipping point, then technology has to be the answer.
Increase their website conversion rate
Generate more qualified leads
Combat Customer Churn
Why are Chatbots Important?
Establishing a good rapport with your audience can be tough. Whether you view the technology as a passing fad, or believe that chat bots will revolutionize how people communicate and interact, the impact chatbots are having on online experiences is real…and it's measurable.
You'll never have 24 hours to accommodate queries from everyone – especially the repetitive types. Time spent addressing queries can be a productivity killer, even when the queries are simple.
With Botbaba, you'll never waste another minute addressing generic inquiries again. Botbaba allows you to create a highly customized chatbot that can handle customers for you.
What is Botbaba?
Botbaba.io is a Chatbot platform where anyone can make their own bots without any coding knowledge. Our chatbots are used for Lead generation, Customer support, Operations and also as a budget alternative for mobile apps.
Why Get Botbaba?
Nowadays, businesses are relying on chatbots to solve queries in real time. But from all the chatbots in the market, why is Botbaba the only one worth using?
Before we walk through Botbaba's features and integrations, let us first dig deeper into why Botbaba is the best for your business.
Botbaba supports WhatsApp Chatbot
A plethora of eCom and Lead Generation focused features make us the most advanced and powerful WhatsApp Chatbot Platform available in the market.
Drag & Drop
100+ Supported Languages
Supports WhatsApp
Conditional Logic
Native eCommerce
Payment Gateway and more…..
Botbaba is primarily focused on E-Commerce and Retail Businesses
Botbaba brings to you an ordering experience which is unparalleled in the industry and gets the user hooked to your store. It is much better and efficient than the traditional carousel based ordering systems often used in Chatbots.
WhatsApp Ordering
Shopify Integration
Cart Abandon
Product Variation
Shipping Module
Order Notifications
Botbaba for Lead Generation
Botbaba has a suite of features meant for optimizing your lead generation and lead qualification campaigns.
View WhatsApp for ECOMMERCE
Website Widget
SMS Campaigns
WhatsApp Broadcast
CRM Integration
Scheduler
Web Push Notification
Use a Chatbot to take orders over WhatsApp eCommerce Bot
No manual effort. Save Costs.
SETUP YOUR STORE IN MINUTES
Add or Import all your products and start selling from our WhatsApp eCommerce Bot for Retail
ORDER CONFIRMATION MESSAGES
Send order confirmation messages on WhatsApp
DELIVERY NOTIFICATIONS
Auto send WhatsApp messages to customers when you add delivery details to your orders
RECOVER ABANDONED CARTS
Auto Send WhatsApp message to customers who drop out without completing their order.
WHATSAPP SUPPORT INBOX
Talk to your customers via WhatsApp over a Web dashboard or Telegram. Supports multiple chat agents.
Botbaba is committed to equipping businesses with tools that can be implemented quickly and easily. That's why we will see a lot of their code-less integrations in the future.
Wait, there's more! Aside from these features, Botbaba also has integrations.
We have an ever expanding list of integrations with many more in the works.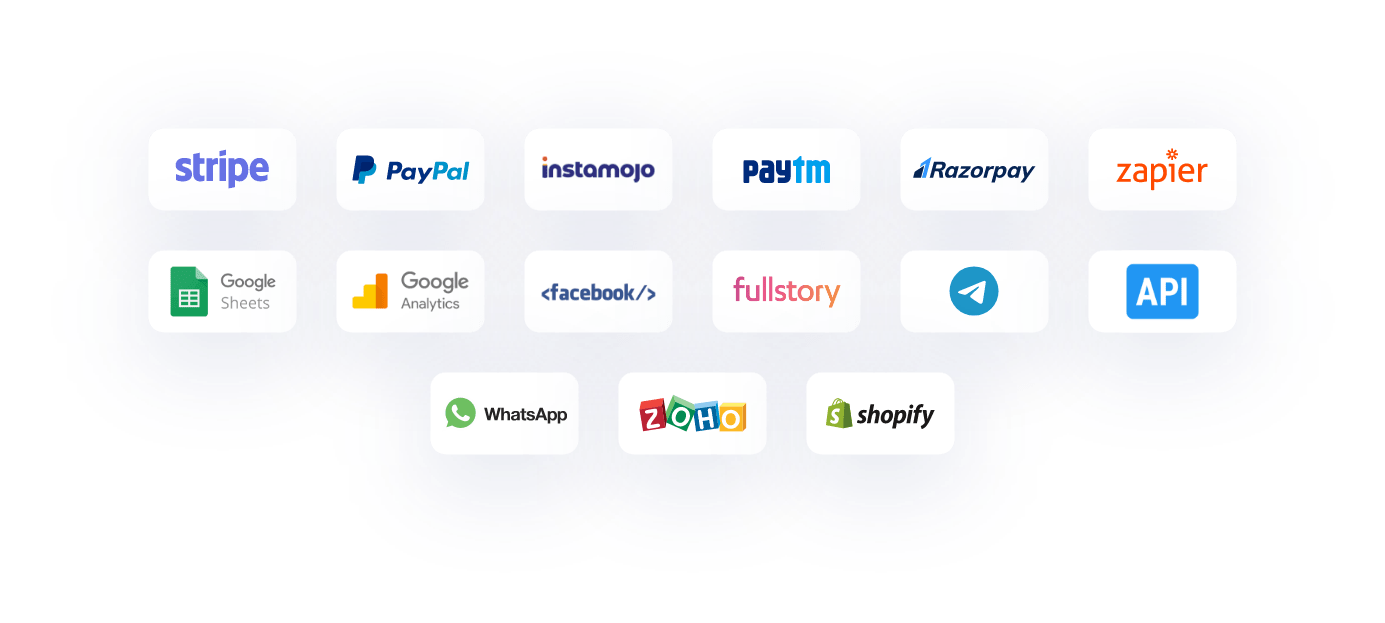 Botbaba's comprehensive chatbot tools are intuitive and easy to use, with its drag & drop builder. You can build chatbot flows as easy as drawing a flow chart.
Most importantly, Botbaba is good for your customers. Customers can respond to Botbaba in more than 18 different ways, including checklists, radio buttons and more.
Features
Unlimited Chats*
Official WhatsApp API Integration (API Charge additional)
WhatsApp Broadcast
Visual Bot Builder
SMS Campaigns (using any 3rd Party API)
Scheduler
Multi Lingual
External HTTP Requests
Triggers & Actions
Google Sheets Integration
Zapier Integration (beta)
Zoho Integration
Shopify Integration
E-Commerce Features
Payment Gateway Integration
Product Images
Bulk Import Product/Categories
Product Variation
Delivery Charges Module
Order Notification (Self + Customer)
Affiliate Order Tracking
Order Reports
Support
Knowledge Base
Email support
Pricing
Start creating your bot with botbaba.io with just $30 per single bot per month but with one time payment you get lifetime access for just $99 only. Grab it soon….
Conclusion
People are now using bots or chatbots as their customer care agents to assist their customers for any queries. Why? Because they are more efficient and can run 24/7, when dealing with routine requests. After a deep search, we've discovered that Botbaba is offering the best value Chatbots in the SaaS marketplace right now. Their LTDs on Botbaba.io provide an amazing amount of features for life at one fixed price.