Graphic Design Trends in 2021 That Will Cause Revolution
An image is worth 1000+ views. A bold and memorable logo is important for generating new business and attracting return customers. And this is possible only with the Graphic Design tools.
Not just creating images is not important ,but the pictures you are creating should need to make sure you have the Graphic Design tools to do a good job, and make strong and, yes, eye-catching images that drive traffic and engagement. The good news is you don't have to invest hundreds of dollars in software there are some fantastic design tools to get you started.
If you are looking for design information and advice, then you will find so much content online that deals with these topics. It might often be confusing to choose the best content amongst such a wide range of Graphic Design tools available online.
So, we have curated some Graphic Design tools here will be more helpful in this digital marketing world.
Canva – Starting from $55
A social media tools list wouldn't be complete without Canva. Whether you're on your own or part of a small, big, local or global team, get all your work and communication done here, on-brand every time.
Highlights
Team folders to help you stay organised, store brand assets, and manage content
Plan, create, schedule and publish your social media posts directly from Canva
Real-time collaboration across countries, companies, and departments
Built-in comments to communicate, work, and resolve suggestions in real-time
Crello – Starting from $49
Crello is an easy-to-use online design editor fueled by thousands of ready-made, customizable templates and millions of high-quality photos, videos, and designs.
Highlights
Enjoy one-click editing tools: background removal, animation, text edit, resize, photo effects, crop, fade, and contrast
Alternative to: Canva
Access 50,000+ ready-made professional design templates in 70+ formats, millions of premium photos, and eye-catching animations
Best for: Marketers and content teams who want a professional, fast-moving design tool without a steep learning curve
Glorify – Starting from $9.99
Whether you're a Solo Entrepreneur getting started, or a business with a collaborating team. Whether you are a doer with no design skills or even a designer with more technical tastebuds. Everyone has a home inside Glorify.
Features
Start with niche & thematic templates
Customize using our super easy editor
Share, Organize & Collaborate
Picmaker – Starting from $69
Picmaker is an AI-enhanced DIY design platform that lets you create stunning professional graphics in minutes.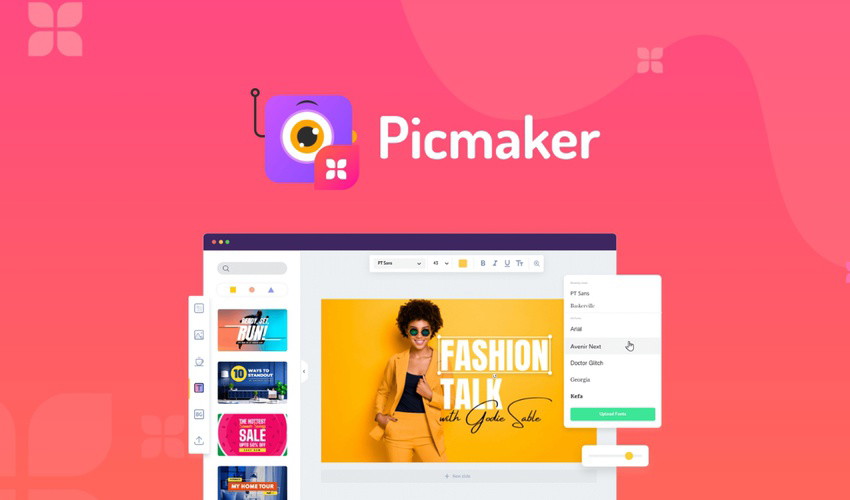 Features
Get AI-enabled design suggestions with the click of a button, plus access to 100 million photos
Alternative to: Canva
Choose from thousands of ready-to-use professional design templates to create stunning designs in minutes
Best for: Marketers, influencers, freelancers, designers, and agencies who want to quickly create professional-grade designs
Adobe Creative Cloud – Starting from $9.99
Make anything you can imagine with Creative Cloud apps and services, wherever you're inspired. Regardless of if you're looking for a bold new font or wondering about the history of emojis, Adobe Creative Cloud is your ultimate resource.
Features
20+ apps and services for desktop, mobile, and web.
Access to stock photos, fonts, plugins and more.
Save, browse, and share assets from Libraries.
Showcase and discover great creative work.